In 1907 a faith-filled project was undertaken by a small group of believers to build a place in this community where the name of Jesus would be lifted up and people could gather together and worship. One hundred years later, that building was no longer large enough. And in 2007 CauseWay Church moved their Sunday services to the local school gym. In October this year it will be 16 years of meeting in the gym on Sunday mornings – 16 years of love and commitment from volunteers who have set up and packed down the House of God each week. We are thankful that God provided us with a place to meet. But He has more to do and more people to reach.
Legacy is all about setting up future generations for what God has for them to do. In the same way that we have been beneficiaries of those who left a legacy before us, we have the opportunity to do the same for our children and grandchildren.
To be part of our Legacy Offering we ask you to make a faith pledge – a commitment of finances that you will give over the next 12 months (over and above your tithes and offerings) to make a difference to future generations. Whether that is $5/week or $100/week – the amount is not what matters. It's about the opportunity to give what God puts on our hearts in order to accelerate the vision of our church and reach more people with the Good News of Jesus.
This year's Legacy Offering runs from October 2023 to September 2024. 
We encourage you to join us on our Legacy journey. We are all in different stages of life. It's not about equal giving, but equal sacrifice. And we would love to see everyone to participate in some way. Please pray and plan to give to our Legacy Offering—you can make all the difference. No matter the amount, you can play a crucial part in building the future generations of our church. Everyone matters. Everything counts. As always, it's between you and God. Just simply ask Him, "What should I give?"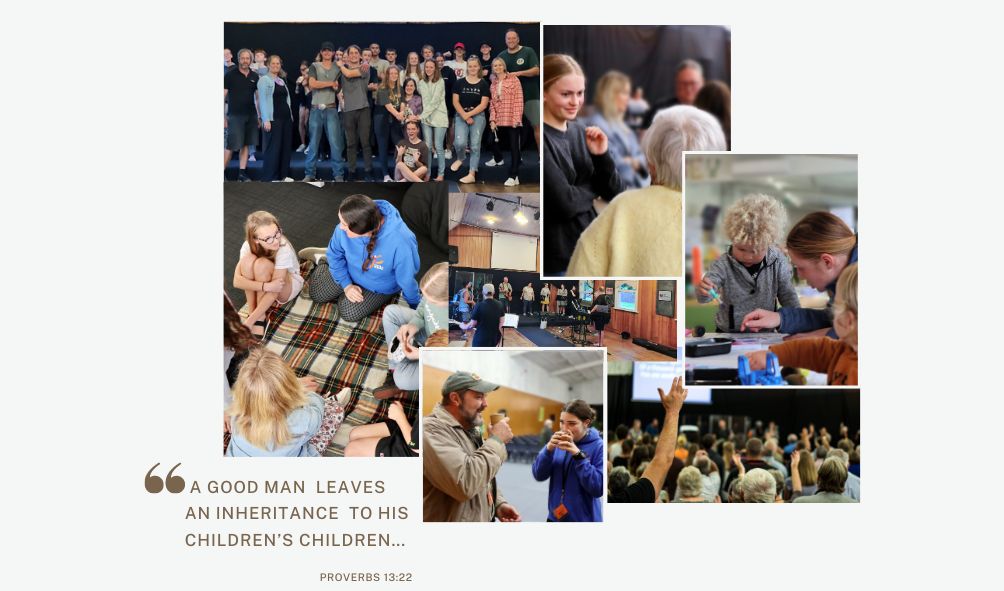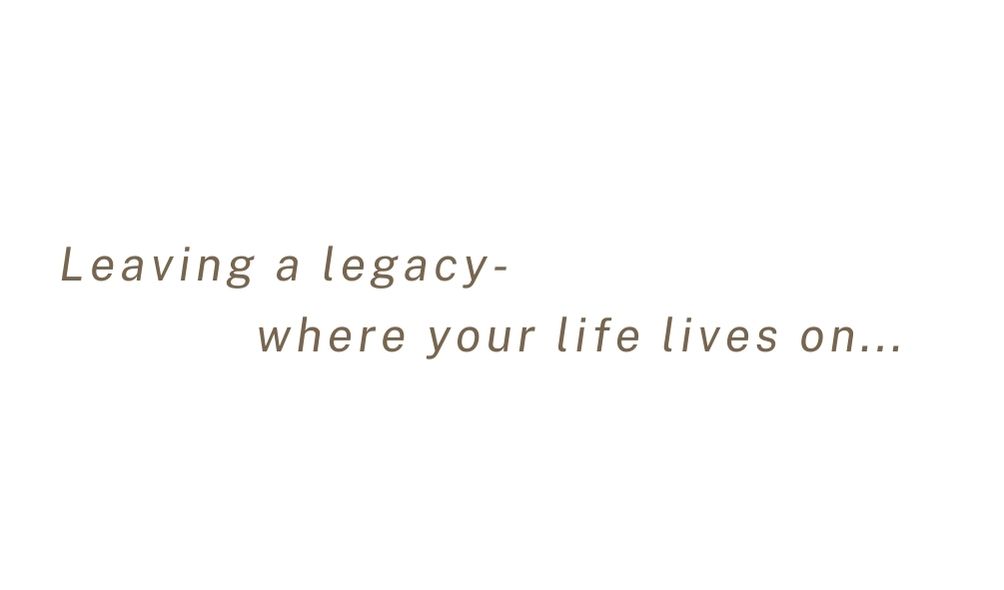 How To Make Your Faith Pledge
1. Pray and ask God what He would have you commit to Legacy.
2. Write down and submit your faith pledge using the online or paper form.
3. Continue to pray for Legacy and plan your budget to make this a reality.
4. Set up your direct credit to the CauseWay Church bank account with your weekly, monthly or annual commitment.
Bank account: 12-3094-0198460-00 Reference: 'LEGACY'
Or you can give on Sundays by EFTPOS at the Info Table, or by cash at the Giving Station in an envelope labelled 'Legacy'. 
This Giving Table is a guide to show you how your 12-month pledge multiplies when combined with the commitment of others.  The more who take part, the bigger difference we make. (A giving unit is one individual/couple/family)
Every pledge makes a difference. And gives us an opportunity to join our faith and our finances to building a Kingdom Legacy for our children, and our children's children!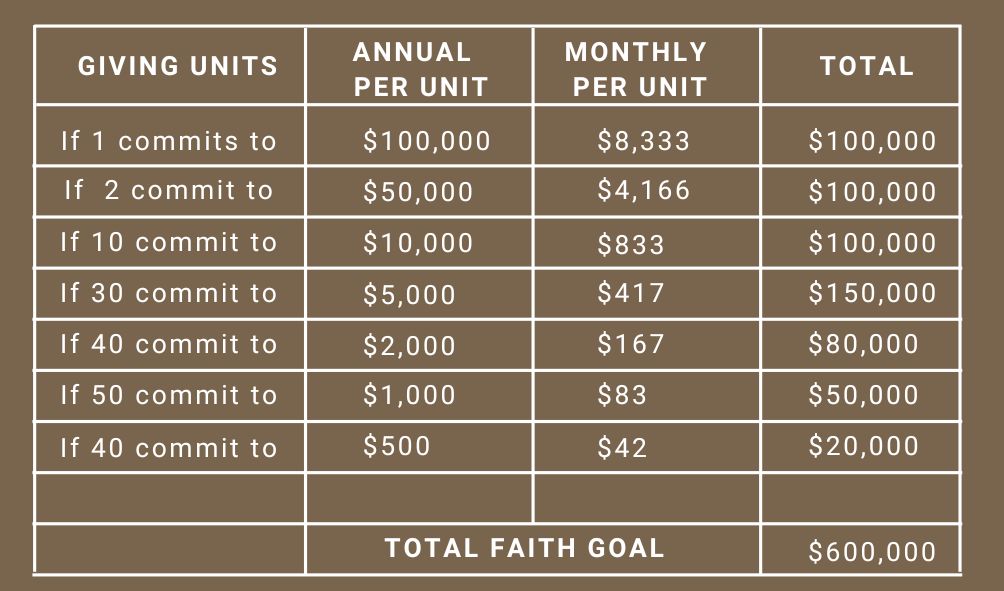 Frequently Asked Questions
What will the Legacy Offering go towards?
This year's Legacy Offering is going towards building our new church home
Is my giving tax-deductible?
Yes – you are able to claim your giving as a charitable donation, entitling you to claim a rebate of 33%
e.g a $1000 donation earns a $333 tax rebate
How do I submit my Legacy pledge?
Fill out a pledge form OR use the online pledge form (see link above). When you make your pledge, submit the total amount you are choosing to pledge for the 2023/24 year.
When should I honour my Legacy pledge?
You can honour your Legacy pledge for the 2023/24 giving cycle at any time from now onwards. Depending on your choice and circumstances, your contributions towards your pledge can be made at any time throughout the year. You can give a one-off lump sum, or give on a weekly or monthly basis. Our final date for completing pledges will be in September, 2024.
How do I honour my Legacy pledge?
You can give online through direct credit to the CauseWay Church bank account. Or you can give by EFTPOS at the Info Table on Sunday, or give cash at the Giving Station at church in an envelope labelled 'Legacy'.
CauseWay Bank Account : 12-3094-0198460-00    Reference: 'LEGACY'
If my circumstances change, can I change my pledge?
Yes – you are free to change your pledge at any time; simply submit an updated pledge form (paper or online). If your circumstances change and you are unable to fulfil your pledge, simply contact us.
Please feel free to contact us if you have further questions